Lab News
« Back to News
We're open! (And here's how our launch night went)
So, we're finally open for bookings. 46 devices across 16 different platforms, and on Friday 23rd August we shared a wee celebration with some of our friends and users.
We had a pretty awesome number of folk through the door (around forty or so over the course of the evening), drinks provided by Vino wine shop and Vitamin Water, and some great chat.
It turns out our security cameras aren't just useful for capturing amusing gifs of fellow Yardie Radek…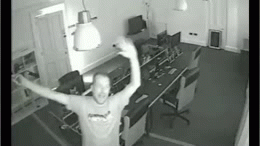 …it's also useful for catching a cool bit of time-lapse of the party!
Folk seemed to have fun, at least according to Twitter:
I did a bit of a crap job thanking people on the night, so here's the (hopefully) definitive list of thanks to folk who have funded, advised, helped and encouraged us to get going…
Stephan, Paul, Ian and the team at Yard Digital for investing everything we needed to get up and running; Paolo, Radek and Sash for their help on the technical side of things;
Bryan and Stephanie Rieger of Yiibu, Orde Saunders, Jim Newbery, Colin Hewitt, Jason Grigsby and Jeremy Keith for their encouragement and invaluable advice along the way;
Luca at Blackberry, John Cooper at Nokia and Roan at FreeAgent for their sponsorship, along with everyone else who donated a device;
My friends and family who have helped out with carrying, building, installing, stickering and generally being awesome; in particular my wife, Jules!
You all rock.